Is a website redesign in your future?
If you've been teetering on the idea of shaking things up with your current website design, or possibly even too embarrassed to give out your URL, keep scrolling my friend, this is the article for you!
A newly designed, well-optimized, and functionally friendly website can impose a sense of professional credibility and keep your site visitors on the page.
And really, we could go on and on about all the ways a fresh site revamp can make your life better, but here at Blue Canopy, we don't like your waste time.
Let's get down to business.
It is of Blue Canopy's tried and true philosophy that any website, large or small, should provide user's ease in these key three areas:
Discovery

Navigation

Appearance
First things first, take a moment to ask yourself the following three questions:
• What is my website missing that could be providing real value to my customers?
• How can the functionally be improved to make browsing my site easier?
• Does my website capture an average viewer's attention within seconds? Or even, at all?
Keep your answers in mind as you venture through this post and uncover whether the following red flags speak to the current state of your website!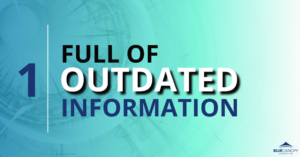 Your Website Content is Outdated
This sign may seem like a no brainer, but when you are busy chasing success it's common for things to slip between the cracks.
We get that.
And just to be clear, when we say "outdated" we mean:
It's been more than 3 years since your site was built or had a design update.

The branding (logo, brand colors, slogan, etc.) that are featured on your site don't hold true to how you represent your brand currently.

The tone of your content doesn't accurately speak to your brand's personality.

Your services or pricing are not reflective of your present offerings.
If you are far behind schedule when it comes to updating important company details on your site, it could be more effective to dive straight into a complete redesign overhaul.
Hear us out, you need to update your:
services

pricing

team members

logo/branding

location
or maybe even more, yikes!
Do yourself the favor of saving the time and potential frustration that arise out of patching things up here and there. Enter full on remodel mode and restore your site back to its original glory and then some!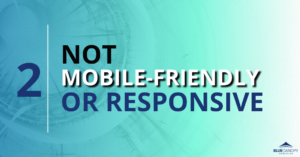 Your Website Lacks Mobile Compatibility
Mobile responsiveness? What?
Having a website that is mobile responsive means your website renders accordingly to whichever screen size or device it is being presented on.
Great responsive design will have your website looking just as fabulous on a phone or tablet as it does your desktop computer!
But here's the cold, hard truth, if your website lacks mobile compatibility within our digital age, you run into two major problems.
a. You are significantly less accessible to a massive sector of your potential market.
b. You are delivering a less than satisfactory browsing experience for your customers.
Not only do search engines demote websites that lack mobile compatibility, US-based statistics calculated in February of 2022, per statcounter, reveal that 52.21 percent of total web visits are currently mobile, as compared to 47.79 percent coming from desktops.
Yep, we would say that's a pretty big chunk of the market. Getting a feel for the importance of responsive design?
Responsive websites
Attract wider audiences

Improve SEO rankings

Aid in site maintenance flexibility

Decrease bounce rates

Increase conversion

Boost page loading speeds
Take this as your sign to get with the program and invest with the modern times.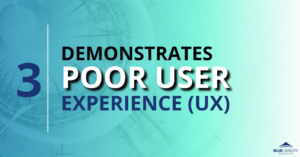 Your Website is Difficult to Browse
User experience, commonly referred to as UX, refers to any interaction a user has with a product or service.
UX design considers each and every element that shapes this experience, how it makes the user feel, and how easy it is for the user to accomplish their desired tasks.
Poor UX can cause for a range of less than desirable events to occur, such as high bounce rates, deserted shopping carts, decreases click-through rates and more (CareerFoundry).
Here's a rundown of UX issues that could be hurting the overall functionality of your website:
Confusing navigation menu.

Locating and browsing the inside pages of your website is difficult for users.
Lacks ADA-accessibility.
Not responsive/mobile friendly.
Complexity in design.

A cluttered layout, lack of contrast in color or design elements, and even simply having too much text can reduce your site's readability factor, downgrading any user's overall experience.
Broken or inactive internal/external links and design features.

No one benefits from being redirected to a 404 page. Broken links and buttons can be a real turn off, one that may even lose you business.
Pages consistently load slowly.

Staring at a spinning loading circle can be a bit mesmerizing at first but can quickly fuel a user's frustration.
Do any of the above issues remind you of your website?
If so, it appears it may be time to rethink your current design.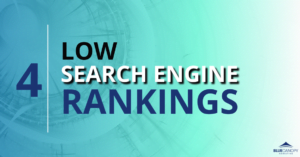 Your Website Ranks Poorly on Search Engine Listings
Is your website not ranking very high in Google's search listings?
The condition of your website may be the culprit, not your brand or business.
Ranking poorly in online listings, especially within your local market, can be largely due to a hefty amount of outdated website content and plugins.
According to Search Engine Journal, fresh content is certainly a Google ranking factor.
Evidence proves that search engines heavily favor fresh, keyword packed content and crisp web design elements that don't bog down your page speed.
A proven method for boosting your SEO listings is to begin with a strong foundation i.e., a recently redesigned website.
After acquiring a website foundation built with proper SEO practices in mind, strategic steps in building your rankings can be applied more efficiently.
Note: SEO campaigns, when done correctly, can be an expensive, long-term commitment. Apply SEO tactics to a website framework that is suitable for SEO success is key in achieving desirable outcomes per your investment.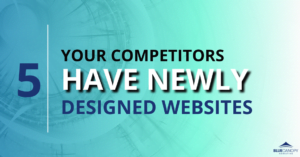 Your Website Isn't Up to Snuff with Competing Sites
Feeling a little jealous when you look at your competitor's website?
Regardless of how much better you are than your competitors, if they are showing up online with a website that is
Cooler

Sleeker

AND more attractive than yours,
you are likely missing out on key business opportunities, point-blank.
A key stage of the consumer buying journey is the "research stage".
With each passing day, more and more customers quickly turn to online resources to discover more information about products and services they would like to buy.
A 2021 study found that 81% of retail shoppers conduct online research before buying.
The look and feel of your website in comparison to others can play a large role in your audience's decision-making process.
Stay on top of your competitors with shiny new website that your customers, new and old, will choose over the competition every time!
______________________________________________________________________
Is it time for you to redesign?
Taking on a website redesign is no small feat, but when you choose the right web development partner for the job, the process can be simple, and stress free.
Your website as your 24/7 advertising channel. This digital storefront should represent the standard of excellence you strive to accomplish every day within your business.
If you believe a website redesign is your next big move, return your website to the glory you and your business deserve by getting started with the Blue Canopy Team. Years of experience and knowledge have granted us to the ability to provide you with top tier results, completely custom to the unique needs and challenges you face.
Still unsure if the investment in a fresh new website is right for you and your goals? Schedule a FREE consultation with one of our certified marketing professionals today to discuss if a redesign it in the cards for you!
Thanks for reading!
Follow us on Facebook | Instagram | TikTok | LinkedIn | Twitter | Pinterest