WHAT DOES YOUR WEBSITE SAY ABOUT YOU AND YOUR BUSINESS?
Determining why you need a website, what it should include, and where to start is an overwhelming task. This is where the team at Blue Canopy Marketing comes in. Your website should be clear, engaging, and set you apart. When your site is outdated, confusing, and performs poorly, you lose an opportunity.
Our experienced team will help you find the right solution and define your digital identity.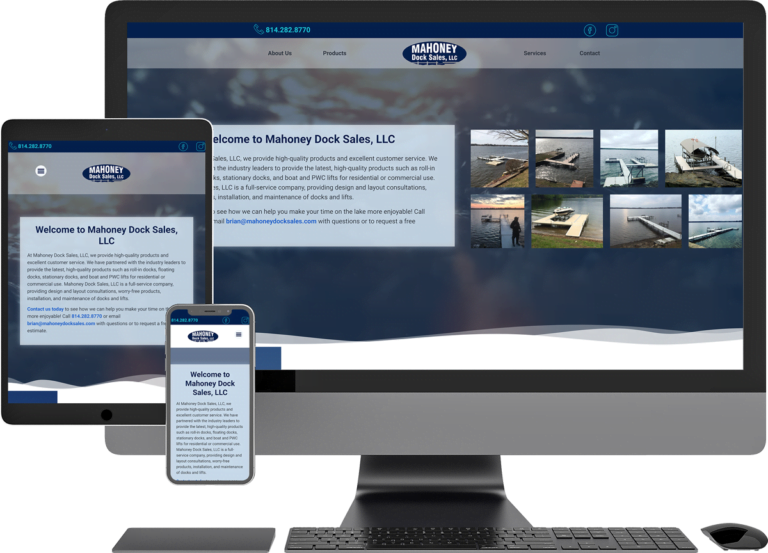 Our streamlined process enables us to ensure you love your new site and helps you to grow your business.
1. Discovery
First our team gets to know you and your business and performs a website audit. During the audit, your entire digital strategy will be reviewed to plan for future growth. We collaborate with you to determine your initial goals for business growth.
2. Content Creation
We will create engaging content based on our discovery meeting and research. Our team ensures that the message and content is clear and concise while following strategic online guidelines.
3. Design Layout
A wireframe is created for you to visualize the website homepage. This includes your menu layout as well as color and photo selection. Your input is a critical part of this step.
4. Development
Upon your approval of content and layout, we move to the creation phase. This is when our talented development team brings your vision to life.
5. Staging and Testing
Upon completion, your site is staged and tested on all current browsers and devices to ensure proper functionality and presentation.
6. Launch
We make your site live on your domain so you can now present it to the world!
7. Concierge Support
We value the ongoing relationships we hold with every client, which is why our team is here to help maintain the wellness and currency of your site long after launch.
Custom Website Design Investment
Strategy Session
Scrolling Homepage
About Us, Contact and 2 Additional Pages
Content Creation
Responsive Design
SEO Foundation
Google Analytics & Search Console Setup
Social Media Links
Email Contact Collection
ADA Widget & Statement
Transparency "Cookie Consent"
Facebook Re-Brand and Optimization
Google Business Profile Optimization
Need a more affordable option?
At Blue Canopy, we have created a website package for those not wanting a large upfront payment. We understand the challenges of starting a new business or having limited marketing funds. We just simply will not produce a lower quality product.
Looking for more features & functionality for your site?
Blue

Canopy Marketing wants to make digital marketing success accessible and convenient for anyone!