Welcome to the  End of Summer 2022 company update!
From new events to team meetings, networking in our community and the launch of a completely FREE marketing resource, we're closing out summer with a number of exciting updates that we wanted to share with.
Read on to discover what the Blue Canopy team accomplished this past month.
Upcoming Events
Meadville Chamber's 2022 Wine, Brew and Spirits Walk
We are happy to report that we will be hosting as a new stop on the Meadville Chamber's Wine, Brew and Spirits Walk this year!
We will be partnering with Sherry Distributors Inc. who will be serving samples at our office location on 829 Market Street in Meadville Saturday, September 10th from 3Pm-7Pm.
Click here to purchase your tickets.
If you would like to receive more information on the Wine Walk, please visit MeadvilleChamber.com or discover updates on the Meadville-Western Crawford County Chamber of Commerce Facebook page!
Team News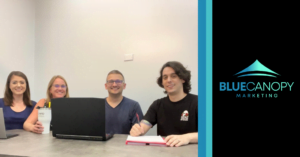 Blue Canopy's Quarterly Review Meeting
The entire Blue Canopy Marketing team was very excited to have recently gotten together for our quarterly review meeting.
Our Software Engineers, Josh and Jacob, work from the comfort of their home offices but visit our 829 Market Street location often to:
brainstorm new ideas and services
collaborate on client projects
troubleshoot roadblocks
train on new systems
enjoy team lunch
and have some much needed catchup time!
We were all super please to check off many a to-do in the time we shared together, and are already looking forward to our next meeting!
Networking in Our Community
August Business After Hours at the Crawford County Fair
Mandy and Alexis enjoyed a beautiful evening at the Crawford County Fair for the Meadville-Western Crawford County Chamber of Commerce's Business After Hours event.
Attending the Meadville Chamber's networking events has introduced our team to so many new opportunities and has given us the chance to meet with a number of wonderful business professionals within our community.
Aside from connecting with new and old friends, we were lucky enough to enjoy an amazing sampling of classic fair food favorites, and you betcha we made our way over to grab some
4-H in Crawford County, PA
ice cream!
August Businesswomen's Roundtable Meeting
Mandy and Alexis also had the pleasure of attending the August Businesswomen's Roundtable meeting at our neighbors just down the street, Blissful Meads!
It was a great experience to sit among a number of intelligent and driven businesswomen who are accomplishing so many amazing things right here in our community.
We are looking forward to attending September's meeting later this month!
National Dog Day
The Blue Canopy team celebrated National Dog Day on August 26th by sharing our furry friends on our socials.
Here's the lineup:
Top Left: Owner, Success Coordinator Mandy Mahoney with Findley
Top Right: Software Engineer Jacob Nicol with Keiko
Bottom Left: Digital Marketing Strategist Alexis Rhoades with Bean
Bottom Right: Lead Software Engineer Josh Cool with Olive
Celebrated annually on August 26th, National Dog Day celebrates all dogs, mixed breed and pure and is intended to help galvanize the public to recognize the number of dogs that need to be rescued each year and acknowledges family dogs and dogs that work selflessly each day to save lives, keep us safe and bring comfort.
We urge you to get involved and share your support anyway you know how to your local animal shelter. If you are from the Meadville area, consider providing a helpful donation to the Crawford County Humane Society.
Free Marketing Resource to Help You THRIVE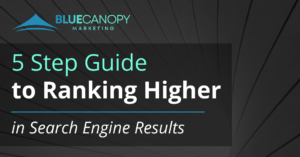 Are you on the endless chase for new customers?
Learn about how YOU can attract more customers to your business with our FREE 5 step guide!
Click here to fill out the form for your completely FREE 5 Step Guide to Ranking Higher in Search Engine Results!
Thank You for Your Continued Support
Our team is incredibly lucky to be a part of a community that is so rich in collaboration. We look forward to seeing what else we will accomplish this Fall!
Educational Resources
Recent Blog Posts
In case you missed them, we published three new blog posts packed full of information to help your business THRIVE!
5 Keys to Increasing your Business's Social Searchability
Generate More Google Reviews for your Business
The Hidden Costs of Cheap Websites
Key Marketing Tips We Shared this Month
5 Tips to Getting Started with Video Marketing
Share More of your Brand's Stories
Tips for Attracting the RIGHT Audience
Enjoyed this month's company update?
Click here to sign up for newsletter to stay connected with us!
Follow us on Facebook | Instagram | TikTok | LinkedIn | Twitter | Pinterest