Welcome to the July 2022 company update!
From local sponsorships to recent events, the latest in team certifications and development, and the launch of our new Facebook group, this past month has been full of exciting updates.
Read on to discover what's new the Blue Canopy crew.
What's New?

We Launched a Facebook Group
Our Facebook Group on the Meta platform entitled "Under the Blue Canopy" is now live!
Under the Blue Canopy is an exclusive, collaborative space for businesses to gain actionable marketing advice, partake in business-minded discussions with other professionals, receive the latest in industry news, and much, much more!
This group features exclusive content only for group members to take advantage of, such as group member only promotions and marketing tips you will not see anywhere else.
Blue Canopy is Now on Alignable
We recently joined the Meadville small business network on Alignable, a small business networking platform that is intended for users to build relationship with other business owners in their community and generate referrals.
Team News

Talented Intern Ben Raduns Returns
We are proud to welcome back Software Engineering Intern, Ben Raduns, for another summer with the Blue Canopy team. Ben is an incoming sophomore at Grove City College where he is majoring in Computer Science. ⁠
Our Lead Software Engineer, Josh Cool, had this to share on his experience in mentoring Ben:⁠
⁠
"Ben has excelled in each task that has been given thus far. He is a great coworker, has a knack for picking up new programming languages and is a hard worker."⁠
⁠
Ben is already well into tackling an exciting project this year of getting to help build a new custom WordPress plugin that will offer more website customization, streamline our custom-coded features/capabilities, and enhance website performance and security.⁠
⁠
Implementing this plug-in exclusively on Blue Canopy client websites is an exciting value add we cannot wait to provide for our marketing partners.
Latest in Certifications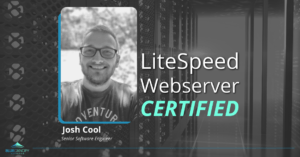 Our Senior Software Engineer, Josh Cool recently completed his LiteSpeed Web Server Certification.
LiteSpeed Web Server is the leading high-performance, high-scalability web server from LiteSpeed technologies.
This certification course provided Josh with advanced understanding using LiteSpeed with a cPanel and WHM server.
These skills expand Blue Canopy's ability to apply more value in services and deliver higher quality experiences.
Our Digital Marketing Strategist, Alexis Rhoades recently enrolled in Google's Digital Marketing & E-Commerce certification course.
Blue Canopy Marketing was recently accepted into the Grow with Google Professional Certificates program and we are very excited about what this could mean for the growth of our employees.
Over the next 6 months, Alexis will be chipping away at online assignments and quizzes each week and will have the opportunity to expand her education in:
the foundations of digital marketing and e-commerce
strategies for attracting and engaging customers online
lead generation and online customer interactions
successful email marketing execution
marketing data analysis and measuring for better outcomes
building, launching, and managing e-commerce stores
developing stronger customer loyalty online
Alexis hopes to gain actionable skills and knowledge that will allow her to better serve Blue Canopy clients.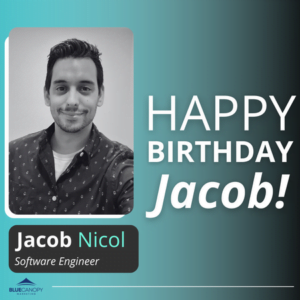 Jacob Celebrated a Birthday
Our Software Engineer, Jacob Nicol turned 29 years young on July 15th! Jacob is a valued member of the Blue Canopy team and we are very lucky to have him aboard.
Community Involvement
Meadville-Western Crawford County Chamber-Commerce
As a proud member of the Meadville Chamber, our team had the privilege of attending two networking events this past month.
June Businesswomen's Roundtable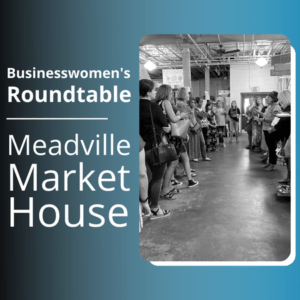 Our Owner/Success Coordinator, Mandy and Digital Marketing Strategist, Alexis attended the Meadville Chamber's Businesswomen's Roundtable meeting held at the Meadville Market House.
Mandy and Alexis received a full update on all the progress and new additions taking place at the Market House and sampled delicious food from Market House-based vendors ZEST Kitchen & Pantry, Kettle Lake Kitchen, and Save Room For Dessert.
Current Market House vendors were also in attendance that evening, and it was a wonderful experience to meet with not only the hardworking people that keep the Market House great, but as well as a number of the driven businesswomen within our local area.
Christmas in July Business After Hours
The Iroquois Boating and Fishing Club hosted the Meadville Chamber's Christmas in July event and the Blue Canopy team was there to soak up all the holiday excitement.
Click here to view the Christmas in July recap on the chamber's Facebook page.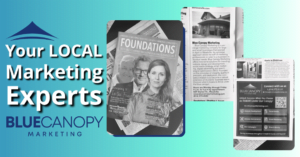 Foundations 2022-2023 Chamber Magazine and Business Directory
We were also very excited to be featured in the latest issue of the Chamber's Foundations Magazine and Business Directory!
Being a part of this issue is a big deal for our business in generating brand awareness and making us more available to our local community.
If you haven't already, browse the business directory or find information on upcoming events, exciting milestones, and more about the excellence that is taking place right here in Crawford County!
Local Sponsorships

ReMARCable Festival
It was our pleasure to sponsor the 2022 ReMARCable Festival that took place on July 30th.
The festival was a day full of family-friendly fun complete with food, activities, craft vendors, a scavenger hunt, and so much more!
Not only did this event bring together our local community, but it also benefited the Meadville Area Recreation Complex and Foundation.
To learn more about the MARC, visit https://www.marc4fun.com or like their Facebook Page.

A Peek Inside
In April of 2022, we nestled into our new office in downtown Meadville and have been steadily working on "sprucing" up the space.
As time goes on, we hope to continue adding to our space and share our latest updates and changes.
Thank You for your Support
In the few short months since officially opening the Blue Canopy division of our company, we have received so much support from our community and have already had the opportunity to work with some really amazing clients. Our team is extremely passionateabout what we do, and your support means the absolute world to us.
Educational Resources
Recent Blog Posts
In case you missed them, we published three new blog posts packed full of information to help your business THRIVE!
How to Successfully Grow Your Business on LinkedIn
Generate More Google Reviews for your Business
The Hidden Costs of Cheap Websites
Key Marketing Tips We Shared this Month
Tips for Expanding your Email List
Don't Post your Content without these Key Elements
How to Handle Negative Reviews
Tips for Online Community Building
Enjoyed this month's company update?
Click here to sign up for newsletter to stay connected with us!
Follow us on Facebook | Instagram | TikTok | LinkedIn | Twitter | Pinterest