Marketing trends shift nearly every day, meaning the strategies that may have worked for you a month ago may no longer.
The secret to kicking off 2023 strong and setting your business up for growth is to begin planning as soon as possible. From an emphasis on representation to being in the right place at the right time, artificial intelligence, and more, there is a hefty amount of projections floating around within the marketing space right now.
Never-ending updates and constantly evolving marketing trends can be frustrating to keep up with, but fear not, we have you covered!
Read on to stay ahead of the digital marketing curve this new year and find out what trends and features you will want to begin planning for in 2023.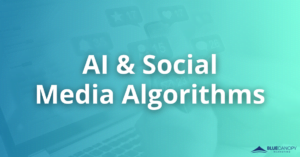 AI & Social Media Algorithms
AI and social media algorithms are not going anywhere, in fact, social media analysts and leading social platforms anticipate deeper integrations of artificial intelligence programs into social media. 
AI or Artificial Intelligence is the ability of a computer program to learn and think (Intellipaat).
A Social Media Algorithm is a set of rules and signals that automatically ranks content on a social platform based on how likely each individual social media user is to like it and interact with it (Hootsuite).
Further personalizing the social media experience for users so that they can receive more of the content they desire and boost the overall user experience will lead the trend for social media. With this in mind, educating yourself NOW on how AI program functions work and progress over time will be key in keeping your content as relevant as possible and ensuring placement in front of your ideal audience.
Here are some content creation tips to help get you started on the right path in the age of social media AI:
Create more personalized content.
Social media platforms want to create more individualized consumer experiences. Ensure that you are creating content that is spoken in your target audience's unique voice and caters to their specific needs.
Post often, consistently.
Posting may seem easy, but this is often the hurdle that most businesses seem to struggle with.
AI and algorithms need to collect a lot of quality data to be able to learn and distribute valuable information. Try to post most every day to not only feed the algorithm but build more awareness of your brand and offerings.
Share when and where your audience is.
Posting at appropriate times can help boost the visibility factor of your content. Check your insights often to see what times of day your audience is most active online.
Additionally, focusing more so on the platforms that your ideal customers live on is key.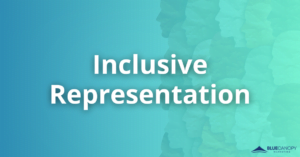 Inclusive Representation
Inclusive representation will be more important than ever as the increased need for audiences to experience things in environments they can relate to will amplify.
According to texthelp, "Inclusive marketing is marketing that considers diversity in all forms. This includes age, appearance, ethnicity, and gender identity. As well as language, socio-economic status, religion/spirituality, and physical/mental ability."
Audiences want to see their favorite brands become more inclusive with their advertising image. When brands take the steps necessary to accomplish this, they are actually opening themselves to appeal to a much broader, if not the largest, audience group they possibly can.
It's a common misconception that demonstrating inclusivity within your advertising looks like including images of diverse people within your campaigns. While the images you share do matter to your brand's ability to demonstrate diversity, inclusive representation goes far beyond the visuals you share.
Senior Director of Marketing, Brand, and Reputation of Google U.K. Nishma Robb had this advice to share on the development of this trend:
"In 2023, brands should carry out an audit of their media plan. Assess whether the mix of channels and publishers reaches the breadth of intended audience and review for potential biases in keyword and topic exclusions. Additionally, consider what affirmative action can be taken to authentically support underrepresented voices and communities."
For more on how you can enhance your brand's abilities in inclusive representation, explore this Guide to Diversity and Inclusion in Modern Advertising by Maryville University.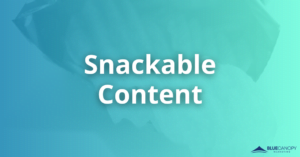 Snackable Content
Short form content has been paving the way to success online in recent years. Transitioning further into 2023, brands and social platforms will continue to lean even more into "snack-sized" content.
It was reported by Cross River Therapy that the average human has an attention span of just 8.25 seconds according to recent studies – 4.25 seconds less than in 2000.
It's easy to assume that the average attention span will continue to see a decline with data like this. What can we learn from these findings? From 7-second videos to posts containing 100 words or less, it will be integral to keep your messaging short and sweet.
Besides, everyone loves a good snack!
What is Snackable Content?
Snackable Content, as defined by VWO is short-form, easily digestible, and visually engaging content. It is designed to communicate the message as quickly as possible, and is often made to be consumed on a mobile device.
This short-form style of content creation is intended to increase the shareability factor of your content as themes of instant gratification and immediacy will drive how well your marketing messages are received.
Additionally, only sharing snippets of information at a time are what readers are most likely to retain long thereafter. ⁠
Some examples of snackable content are short-form videos (such as Instagram Reels, TikToks, and YouTube Shorts), infographics, memes, gifs, and captioned images.
⁠
There's always a time and place to throw in your lengthier, 4 course meal of information. Finding balance as you come to learn where and what form of content translates best can do wonders for how your message is received. ⁠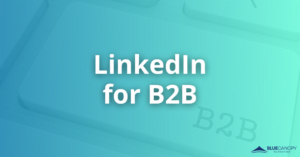 LinkedIn Dominance in B2B Sector
Did you know that LinkedIn is expected to account for more than a quarter of B2B advertising in two years? 
The professional social media networking platform has seen an enormous transformation in how its users approach sharing content and making connections as of late. This grand evolution has resulted in spectacular growth in active monthly users as well as the value LinkedIn has to offer.
If your brand hasn't already, 2023 will NEED to be your year for building a solid presence on LinkedIn so you can stay ahead of your competition.
Tips for businesses seeking growth on LinkedIn:
Ensure that all fields of your company page are filled in and optimized for search with rich keywords, a link to your website, and 3 strategic hashtag topics that are pertinent to your business.
Adhere to a consistent post frequency of 5-6 times per week to increase your chances of reaching a larger audience.
Share content that provides value to your audience and is concise and shareable.
Create showcase pages for your most popular products and services.
Ask your employees to join in on the fun by advocating for your company's brand via their personal accounts to help expose your business to more users and include your company page on their profiles.
Send invitations to your connections to follow your page.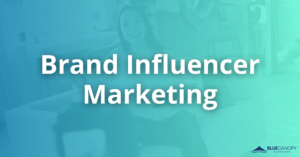 Brand Influencer Marketing
Brand influencer marketing will continue to be a powerful force in the world of marketing. 
Brand influencer marketing is a way brands can promote their products through endorsements or recommendations from influencers and content creators on the internet.
Consumers want to experience products through the eyes of someone they trust. This marketing strategy is an excellent way to give consumers the information they need to make buying decisions, in the format they are most responsive to.
Excellent for generating brand awareness with new audiences, brand influencer marketing also has the potential to increase sales and conversions. The success of influencer marketing likely stems from its ability to allow for a deeper connection between brand and consumer.
In fact, influencer marketing has grown to $16.4 billion in 2022 and businesses are making $5.2 ROI for every $1 spent on influencer marketing per Influencer Marketing Hub.
Brand influencer marketing isn't going anywhere, be sure to hop on this trend before your competition does!
For more information on how to kickstart an influencer marketing campaign for your business, turn to this excellent influencer marketing guide created by Hootsuite.
Make 2023 your business's year for marketing success when you stay ahead of the most powerful marketing trends!
Thanks for reading!
Interested in learning more about how to better market your business? Check out 5 SIGNS IT'S TIME TO OUTSOURCE YOUR MARKETING or HOW-TO INCREASE CONVERSIONS WITH SOCIAL MEDIA
Enjoyed this month's company update?
Click here to sign up for newsletter to stay connected with us!
Follow us on Facebook | Instagram | TikTok | LinkedIn | Twitter | Pinterest