As a business owner, there is a TON to consider before investing in outside help, and marketing is no exception! 
But, does your business REALLY need to invest in outsourced marketing services?
Outsourcing has the potential to:
Save time.

Save money.

Improve consistency.

Heighten strategy, and therefore, sales.

Expose your brand to a wider audience, allowing your company to grow.
and so much more. The possibilities in success are seemingly endless!
As stated by Precision Marketing Group, "Outsourced marketing lightens the load for company owners and busy managers who are already wearing too many hats within their organizations."
In fact, 90% of small businesses planned to outsource business functions in 2022, up from 80% in 2021!
This statistic likely lends to the reality that outsourcing your marketing to an external team is more often than not a cheaper venture than hiring just one full-time marketing professional in-house. Think about it this way; when outsourcing to a marketing agency, you are only paying a fixed amount for the services you choose to receive, as opposed to spending the extra money on the salary and benefits of an employee.
But wait, what exactly is outsourced marketing?
Outsourced Marketing enables companies to acquire all the expertise, tools and tactics of a comprehensive marketing department from a third-party company, which eliminates the need to hire skilled marketing personnel. (Forbes) 
If you are unsure as to whether you need to hire out your marketing, or invest in a more robust strategy at all, consider the following roadblocks that may be holding your business back from greater success.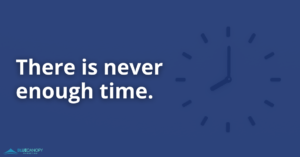 1. You and your staff lack the time, energy, and resources to perform day-to-day marketing tasks.
Are you struggling with
expanding into new marketing channels?
nurturing your online presence consistently?
staying ahead of the latest trends and incorporating them into your marketing mix?
If you are unable to find the time within your day to further develop your marketing strategy, it's high time you hire a marketing team that can take the load off.  
According to a 2022 study performed by Cision PR Newswire, 27% of small businesses are most motivated to outsource to improve their efficiency and save time.
As a business owner, your time is incredibly valuable, and given your profession, your expertise is likely best used away from the scope of marketing responsibilities.
Professional marketing teams are trained and educated to consistently deliver quality marketing materials that promote the growth of your business and seek out return for your investment. 
Don't inhibit your growth because YOU don't have time to see out your marketing tasks, hire a team that not only has the time, but has the time to do it well!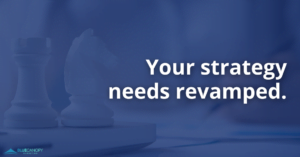 2. Your overall strategy is neglected and stale, with no improvement in site.
Marketing trends change constantly, and the old methods that once worked for you, no longer do and you have no idea what to do next. Given your lack of time, you  are unable to prioritize the improvement of your overall strategy.
Does this sound like you?
If it does, this where the value of an outside perspective from a marketing company can come in handy.
Not only should your outsourcing partner bring new perspective as to the best way to approach your marketing strategy, but as well as the skills and ability to apply said strategy on your behalf. Talk about a productive and profitable timesaver!
Additionally, relinquishing your time and responsibilities to an outside party works to solve the 5 Small Business Problems:
Hiring new employees
Increasing profit
Employee healthcare
Growing revenue
Managing cash flow
Outsourcing your business's marketing efforts has the potential to give you the competitive edge you need to shine in your market. In fact, Gleanster Research reports that as much as 34% of average-performing B2B companies feel that their current marketing processes won't be able to scale up and meet their marketing challenges in the next 1 to 3 years. That's why the ability to ramp up marketing activities in response to new opportunities is a key benefit that an outsourced marketing agency can offer.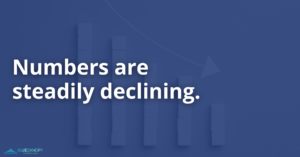 3. Lead Generation, ROI, and sales are facing decline.
It can be a hard pill to swallow, but despite your best effort in keeping up with your business's marketing strategy, your performance insights, ROI, and sales are continually facing decline.
The fact of the matter is, marketing strategies that are deployed for success often require a variety of advertising mediums, platforms, and understanding.  If no one on your team contains the ability or time to implement current marketing tactics, such as social media marketing, email marketing, lead generation, online advertising, etc., investing in an outsourced marketing partner could be the answer to your problems.
An enormous benefit of outsourcing your marketing often appears to be how significant the ROI is in comparison to the initial cost. While the initial numbers may appear to raise costs, the pay-off arises in leads converted, flexible costs, and the decrease of hidden internal expenditures associated with campaigns generated internally. In short, quality digital marketing boosts revenue.
Here's some recent statistics that back just how cost-effective an investment in marketing can truly be:
The average return on investment from email marketing stands at 4,200%. (BestWriting)
Individuals who invest in blogging as a marketing tool are 13 times more likely to get a positive ROI. Businesses that blog, on average, see 126% more leads than those that don't. (BestWriting)
An investment in content marketing costs 62% less than traditional marketing but drives 3 times as many leads.
Sounds great, right? There is no reason to venture down the path of uncertainty and loss any longer. Increase your bottom when you choose to partner with a qualified team of marketing professionals who are ready and willing to help skyrocket your success!
Does this sound like you?
If you're overwhelmed and at a loss when it comes to marketing your business, it may be time to start exploring your options in outsourced marketing.
Not sure where to start? Here are some key qualities you should be looking for when hiring a professional marketing team.
Experienced team of dedicated and responsive professionals.
Commitment to ongoing education of the latest trends and technologies.
Strong examples and project cases that prove their ability to lead your marketing success.
Excellent reviews and customer testimonies that speak to the level of care and communication you'll receive for your investment.
Thanks for reading!
Interested in learning more about how to better market your business? Check out HOW-TO INCREASE CONVERSIONS WITH SOCIAL MEDIA or HOW-TO: GET STARTED WITH VIDEO CONTENT FOR BUSINESS
Enjoyed this month's company update?
Click here to sign up for newsletter to stay connected with us!
Follow us on Facebook | Instagram | TikTok | LinkedIn | Twitter | Pinterest