Welcome to the June 2022 company update!
From server updates to recent events, the latest in team news, and even the launch of our company website, we look forward to sharing with you some recent news and exciting developments.
Read on and catch up on what you've missed and what's to come!
Website Launch
First and foremost, our team is very excited to announce that we have officially launched our BRAND NEW website!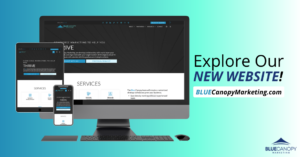 BlueCanopyMarketing.com is now available for users to:
and more!
Server Updates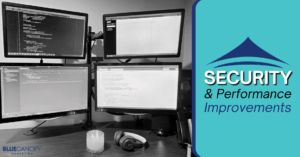 Our software engineers work tirelessly each day to ensure that our partners receive a top-tier website experience unlike any other.
This heightened level of care is often represented as extensive maintenance of our server and other backend components.
Listed below are the most recent updates and valuable improvements that we have added to help enhance website wellness and functionality for our partners:
Added ADA Compliance Widget for all sites developed in WordPress.
Added Cookie Consent Plugin and configured for all sites developed in WordPress.
Removed Outdated Versions of PHP for security improvements.
Updated PHP to the latest version for security and performance improvements.
Updated LiteSpeed to the latest version for security and performance improvements.
Added a new backup system to run more frequently and now runs at another data facility for redundancy.
Added Domain Monitoring (internal tool) – We will receive notifications if your domain no longer points to our server. This tool helps us keep track of your domain in relation to us and could significantly minimize service downtime if a domain is unintentionally unpaid and the registrar switches the domain to a parked page instead. Once we are notified, we will notify you. Time is of the essence for expired domains, so this tool can significantly help prevent others from snatching your domain name.
Team News
Team Meeting
Here at Blue Canopy, we value regular, in-person meetings with our entire crew of experts.
On Wednesday, June 1st, our locally-based software engineer team spent the day in our Meadville office to discuss strategy, new products, and meet with some of our newest marketing partners.
We may have neglected to take a picture together, but we certainly took one of our delicious morning meeting treats!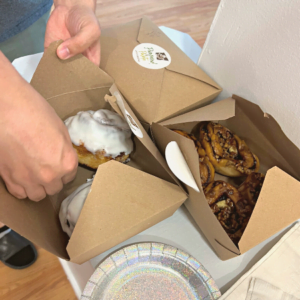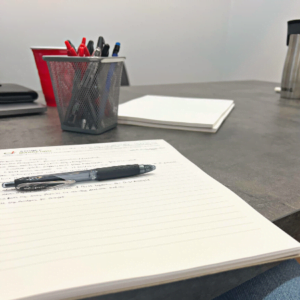 Latest in Certifications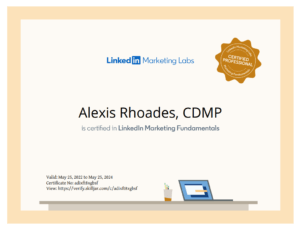 Our Digital Marketing Strategist, Alexis Rhoades, recently completed her
certification in LinkedIn Marketing Solutions Fundamentals.
This certification course proves the test-taker's knowledge of LinkedIn's advertising tools, as well as their capabilities in audience targeting, measuring and analyzing campaign performance, and optimizing advertising goals for desirable outcomes.
Alexis intends to harness her latest education towards providing increasingly valuable social media advertising services for our partners.
Both Josh Cool, Senior Software Engineer, and Jacob Nicol, Software Engineer, are in the midst of completing their Front-End Engineer Certifications per Code Academy.
Completing this course equips users with knowledge of the latest techniques and technologies pertaining to functional and interactive web design.
When asked what he's looking forward to most in completing this course, Jacob had this to share:
"I would like to discover unique ways to utilize code that isn't common in today's industry."
Community Involvement
Meadville-Western Crawford County Chamber-Commerce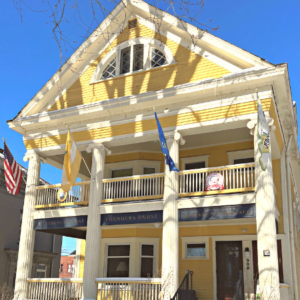 Given our sales team's deep-seated roots within the city of Meadville, stationing our office in the middle of downtown felt natural and necessary. Just as we thought we knew all there was to discover about our wonderful area, enter the Meadville-Western Crawford County Chamber-Commerce.
It has been an absolute pleasure to have recently joined our local chamber. This membership has opened incredible opportunities for learning more about what our county has to offer, how we can best support our community, and make strong connections with local leaders.
In the last month, our team has attended three fantastic chamber events:
May After Hours at Interim HealthCare of Meadville PA
May Businesswomen's Roundtable at the Crawford County Convention & Visitors Bureau
June After Hours at One Federal Credit Union
These events allowed us to learn more about the hosting businesses and the amazing things they do for our community.
We look forward to attending as much as we can in the near future and hope to expand our network with fellow chamber members and beyond!
Meadville Food Truck Festival
We are delighted to be sponsoring the Meadville Food Truck Festival. This family-friendly event is a fundraiser for Nourishing Recovery: The LouAnn Flick Memorial Fund which helps cover the cost of nutritional counseling for patients undergoing treatment at the Yolanda G. Barco Oncology Institute in Meadville.
Be sure to come out and enjoy some great food on June 18th at Vernon Place! Click here to follow their Facebook page for updates.
Educational Resources
Recent Blog Posts
In case you missed them, we published two new blog posts packed full of information to help your business THRIVE!
5 Signs It's Time to Redesign Your Website
Quick and Painless Brand Alignment Checklist
Key Marketing Tips
Capitalize on your Convenience Factors
5 Marketing Pillars for Success
5 Keys to Building a Powerful Brand
Enjoyed this month's company update?
Click here to sign up for newsletter to stay connected with us!
Follow us on Facebook | Instagram | TikTok | LinkedIn | Twitter | Pinterest